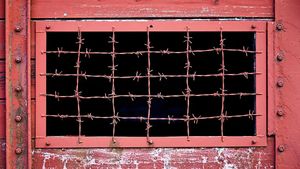 Djurdjevdan
Djurdjevdan is a tribute to the events of May 6, 1942. 
Rather than just making a recording of this well known song, I chose to preface the song with an historical account, and thus the real meaning of this song - because it is important that the North American Serbian audience actually knows what the song is about. 
Here is the story behind the song: 
The song Djurdjevdan was borne out of much pain and suffering. We know that the origin story of this song is true because it was told first-hand by a survivor, Professor Žarko Vidović. 
At around 4am on May 6, 1942 (during World War 2), the Ustaša gathered Serbian prisoners from various camps for a train ride to the Jasenovac Concentration Camp. 
This was anything but a normal "Đurđevdanski uranak". They were herded into trains – each cab was designed to accommodate 40 soldiers – but they loaded 150-200 poor souls into each cab. Without food and water, and standing so tightly together that they could not move, fear and uncertainty took hold. Perhaps out of pride and defiance, one person, a member of the "Sloga" Chamber Choir of Sarajevo, started singing "Proljeće na moje rame slijeće, đurđevak zeleni, svima osim meni – Đurđevdan je!" Others joined in. 
According to testimonies, upon hearing these words, the Ustaša closed off all the roof vents so the poor prisoners did not have enough air to breathe. 
Of the 3,000 who were loaded into the "death-train", only 2,000 survived the trip to Jasenovac. Of those 2,000, only 200 survived the torture of the camp till the end of the war. 
In 1988, Goran Bregović released Djurdjevdan with the lyrics as we now know them. The melody of Djurdjevdan was taken from the traditional Romani folk song "Ederlezi". Ederlezi is the Romani name for the "Feast of Saint George".