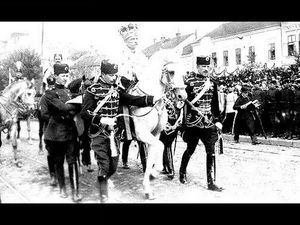 Na Avali Pokraj Beograda
This song was released in early 1990 while Serbia was being bombed by the West during the civil war after the breakup of Yugoslavia, and issues with Kosovo. The song is a patriotic one talking about King Peter's Royal Guard. In this story the Royal Guard is gathering at Avala, just outside of Belgrade preparing for battle. We can probably place the events of this story to during World War 2 before King Peter II had to leave Yugoslavia to rule in exile due the impending German invasion which occurred in April 1941. Shortly thereafter, Yugoslavia capitulated and the Royal Guards were relieved of their duties as there was no King to defend. 
This song is of particular sentimental interest to me not just because of the music itself, but because my late father Dušan Lukich was a sergeant of the Kings Royal Guard prior to the breakout of World War 2. The Royal Guard was comprised of only the most elite soldiers entrusted to protect their King. 
The Yugoslav military formed into 2 main factions – those loyal to the King, and those who were not. Draža Mihailovic was promoted to the Minister of Defense by the King in exile. The third verse makes reference to Draža with 1,000 Četnik fighters waiting, and yearning for the battle to begin to defend their homeland. 
My late father fought bravely under Draža to defend their homeland until events forced their retreat through Slovenia to Italy and the displaced persons camps.