LIKA Orchestra Tribute to Drina Orchestra (Toronto)
March 3, 2014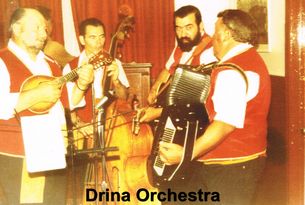 Most musicians are blessed with inspiration from various sources - even having mentors as they develop their own style of music. LIKA Orchestra was most fortunate to have as our mentors "Drina Orchestra" from Toronto. We shared a musical bond with them for over 40 years and we were strongly influenced by Drina in terms of what songs we learned, and the style of our music...especially in the early years starting around 1967. Recently the last member of Drina passed away and LIKA recorded a few tunes (which we learned from Drina) as a tribute to them - so that they would not be forgotten. We also created a video - the video contains 2 songs from our tribute to them, and is our way of thanking them for their friendship, and the major influence that they had on us.
Here is the video:
https://www.youtube.com/watch?v=myGwfIK3CoI&feature=youtu.be
Aside from the songs in the video, we have a few more that we did which we freely share with you here...although these are not professionally recorded, we played the songs much as Drina did - acoustically, playing the songs live...click below to play or download a few tunes.
Kad Oblazi Sunce Milo
johnlukich.com